The Best Way To Grow Spinach In Containers is using medium-sized planters. It allows you to harvest the leaves all summer long. Also, you can use companion plants to protect them from pests or diseases. Dark leafy greens give us important nutrients like iron, Vitamins A, C, Thiamin, Potassium, folic acid, and carotenoids lutein. Spinach also only takes 40-45 Days to start harvesting your first batch.
Best Spinach Varieties For Containers
Red Kitten- Very fast to grow. It is ready to harvest in only 28 days
Regiment- Takes only 37 days and is somewhat like baby spinach leaves
Indian Summer- Ready for harvest in 40-45 days. Good for longer seasons
Double Take- Good if you like baby and mature leaves to choose from.
Bloomsdale Longstanding- This one takes 48 days and will have crinkly leaves.
Space- Great for freezing. It is a hybrid type of spinach and grows fast.
Best Types of Spinach for Hot Climates
The best types for hot climates are Catalina, Indian Summer, Oceanside, and Bloomsdale Longstanding. Good Alternatives are New Zealand Spinach, Malabar Spinach, or Orach.
The Best Way To Plant Spinach In Containers
I use packet seeds to start my spinach and you can start them indoors in early March to Mid April. It only takes 40-45 days to harvest. Keep seeds 3 cm apart and use pots no smaller than 6-12 inches. Each seed should be 1/4 inch deep. Spinach is a cross-season crop and grows very well in warm partial shade temperatures.
Your soil PH level should be around 6.0-7.0 for ideal growth. Look for varieties that can withstand heat in your climate before planting. I also do not recommend using heating mats. The seeds germinate best between 40-75 degrees F.
The Best Way To Grow Spinach In Containers is to stagger your plants in stages. Plant some every week or two to keep your crops rotating. Even in containers, you can do this.
Caring For Your Spinach Plants
Companion Planting and Planning- Make sure you plant some Marigolds or Petunias. Maybe other plants that can provide partial shade to full sun.
Use soil rich in nitrogen, or you can use coffee grounds and even organic fish emulsion. Try to mix this into the soil before planting. They do have shallow roots so take care when replanting.
Only begin feeding them if you are not using fertilized soil until after you transplant them.
Keep your plants in a well-drained container or moisture control soil mix.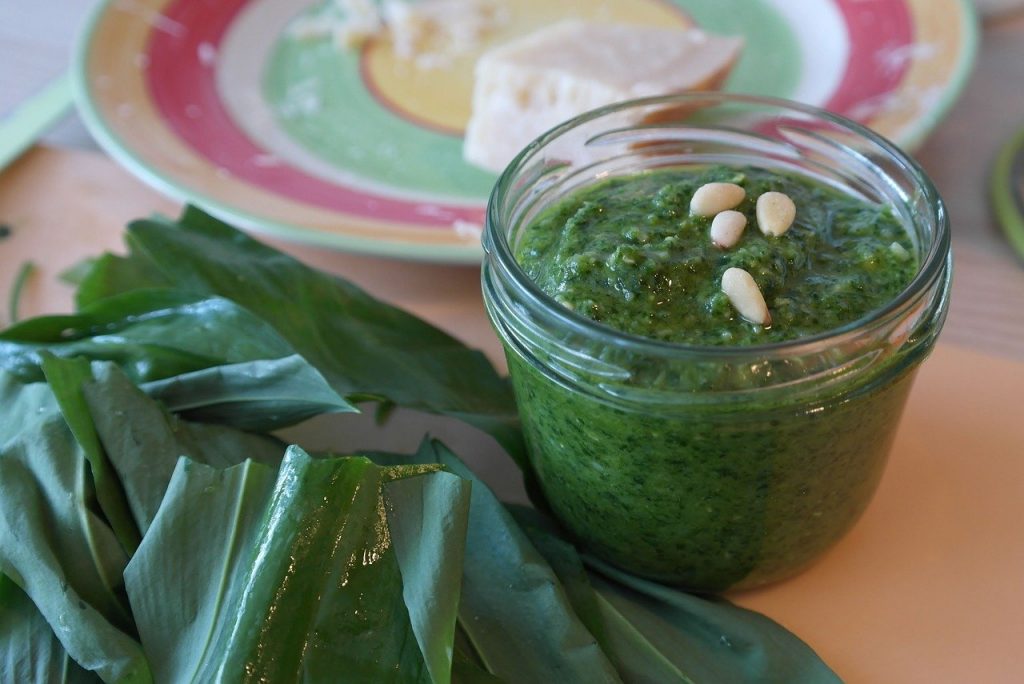 Harvesting Your Spinach Plants
I love making pesto every year. I even make enough to freeze for year-round use. Since I only do water bath canning. It isn't safe to jar it as the oil can cause bacteria to form if not done properly. But if you like spinach pesto it is a great way to preserve it.
You can freeze you Spinach by Blanching it first so it will keep it's rich green color for freezing. If you do not do this it will cause your spinach to lose flavor and turn brown. Blanch for 2-5 minutes, drain, dry off and put into freezer bags for later use.
Products I can recommend and have used
Basil Beans Beets Bell Peppers Carrots Cayenne Peppers Celery Chinese Eggplant Chives Cucumber Garlic Jalapeno Kale Lemon Lettuce Mint Onions Oregano Parsley Peas Potatoes Rosemary Sage Spinach Thyme Tomatoes Zucchini