Depression Style Bread and Butter Pickles are my favorite pickle recipe besides Dill Pickles. I have been using this recipe for years. It is a very common recipe even online. All through the summer I collect and harvest my cucumbers and do them in batches. If you have one-pint jars and 10 cups of sliced cucumbers you can make 5 -1 pint jars with this recipe.
Jump to Recipe
Food Preparation
Do not forget to make sure you have sterile jars and lids ready to use before starting the recipe. The jars should also stay warm enough will you prep the pickles. You need to let the cucumbers sit for a couple of hours in the fridge. So this gives you plenty of time to make sure everything is sterile.
Depression Style Bread and Butter Pickles Supplies you will need
Products I can recommend. Disclosure: I only recommend products I would use myself and all opinions expressed here are our own. This post may contain affiliate links that at no additional cost to you, I may earn a small commission
Sterilizing Your Jars In Boiling Water
You may want to boil your jars to sterilize them, however, you should always adjust your time according to the altitude you live in. Here is a quick chart for your reference below when sterilizing them in a water bath:
| Seal Level in Feet | Total Minutes |
| --- | --- |
| 1000 Feet above sea level | 10 Minutes |
| 1000-2000 | 11 Minutes |
| 2000-3000 | 12 Minutes |
| 3000-4000 | 13 Minutes |
| 4000-5000 | 14 Minutes |
| 5000-6000 | 15 Minutes |
| 6000-7000 | 16 Minutes |
Depression Style Bread and Butter Pickles
Course: Appetizers
Cuisine: American
Difficulty: Easy
If you love pickles on your sandwiches or burgers, these bread and butter pickles are perfect for just that.
Ingredients
10 cups of pickling cucumbers sliced in 1/4″ slices

4 cups of onions sliced in rings or thinly sliced

2 Red jalapeno peppers thinly sliced, if you like spicy, keep the seeds in the slices. If you want a spicy pickle, leave the seeds out.

1/2 cup of pickling salt for soaking the cucumbers

2 – 5 Garlic Cloves (optional) I like to add one to each jar.

2 and 3 1/4 cups of Vinegar

1/4 cup of Water

2 cups Sugar

1 Tablespoon Mustard Seeds

1 Teaspoon of Celery Seeds

1 Teaspoon of Peppercorns

1/2Teaspoon of Turmeric

1/8 Teaspoon of Cloves
Directions
Combine the Cucumber, Onion and Peppers into a bowl. Pour the Pickling Salt over the top of them and cover with plastic wrap and refrigerate stirring occasionally. Let the sit for 2 -4 hours. Rinse the cucumbers well to remove the salt. Rinse for a few minutes. Then Drain.
Get your water canning pot out and sterilize all your jars and lids while the cucumbers are soaking.
Stir in vinegar, water, garlic, mustard seeds, celery seeds, peppercorns, turmeric, and ground cloves together in the saucepan. Bring to a boil and cook for 2 minutes before adding in your rinsed off cucumbers, peppers, and onions.
Only let them come to a slight boil. Remove them from the heat and start placing into jars. Leave a 1/4″ space from the top. And make sure all the air bubbles are out and the rim is dry before placing your lids on. Water bath for about 10-20 minutes. Cool on counter undisturbed for 24 hours before testing the seals.
Recipe Video
Notes
I used Chef John's Video because it is similar to the recipe. His recipe only made me a few jars so it can come in handy if you want to make a smaller batch.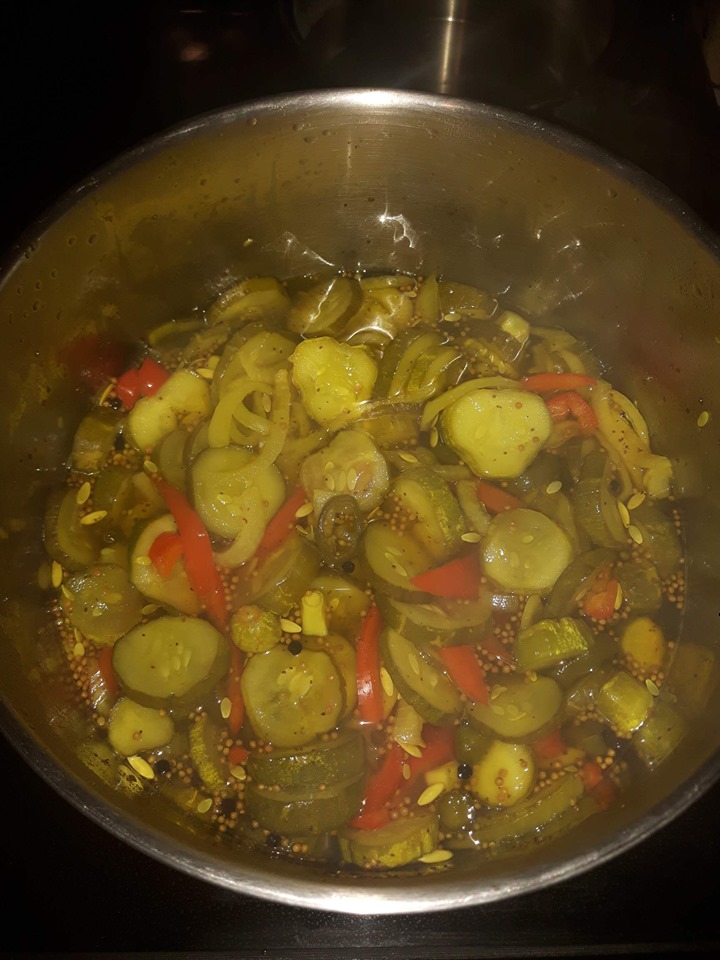 Basil Beans Beets Bell Peppers Carrots Cayenne Peppers Celery Chinese Eggplant Chives Cucumber Garlic Jalapeno Kale Lemon Lettuce Mint Onions Oregano Parsley Peas Potatoes Rosemary Sage Spinach Thyme Tomatoes Zucchini