My Great Grandmothers Old Fashion Beet Recipe is the simplest recipe I have ever done. Although there is one part of it I enjoy less than the other. Peeling Your Beets! After that, it is very simple and they taste so good, no funky spices involved at all. Some like to add cinnamon or cloves, however, this recipe has only a few ingredients you probably have in your pantry right now.
Jump to Recipe
The Great Depression
During the 1930s Millions of Canadians were left unemployed, hungry, and homeless. Also known as the "dirty thirties" due to the crippling effect of drought in the Prairies where I grew up. My Great Grandparents told me how they survived. Preserving their garden was one of them. Although the Depression did had some good outcomes, One being the Government playing a more activist role in the economy and the start of Social Welfare.
My Great Grandmothers Old Fashion Beet Recipe Ingredients
10 pounds fresh beets
4 cups white distilled vinegar
2 cups sugar
2 cups reserved beet water- Or Water
1 tablespoon pickling salt
Preparing Your Beets
You will have to peel the skins of your beets. You can do this by Boiling the beets in water until you can prick them with the fork and they feel soft, but still crunchy. It will take around 45 minutes to do them. Remove them and place them in a cold water bath so they stop cooking.
You do not want them mushy! They will get softer as they age in the jars. The skins will just slide off. I do warn you that you may want to wear some old clothes and use gloves. Beet Juice does stain things very easily.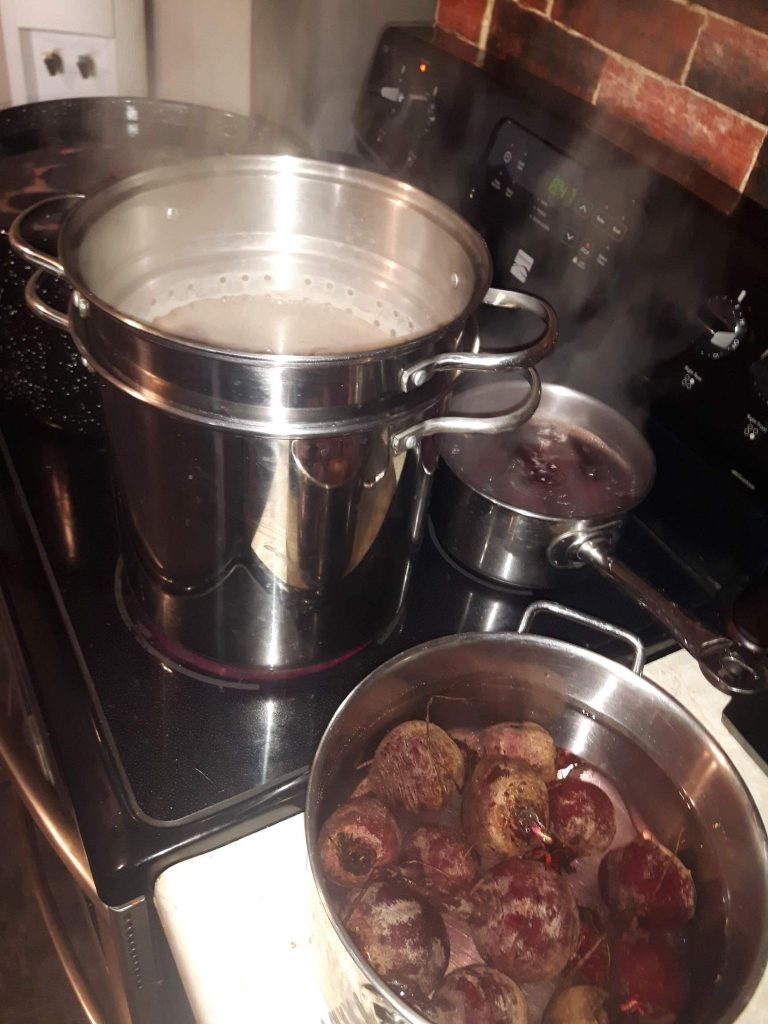 Preparing Your Beets For Your Jars
I use both sizes of jars for my beets. That way I have larger jars for gatherings. Smaller ones for me to nibble on in the fridge! Dice Your beets in 1-1/2″ cubes. Place the beets in the jars. Use Sterile Jars and wipe the tops of the jars to make sure there is no sticky residue or the seals will not take. Now you're ready to start making your beet brine. You can follow my recipe below or print it out for a later time.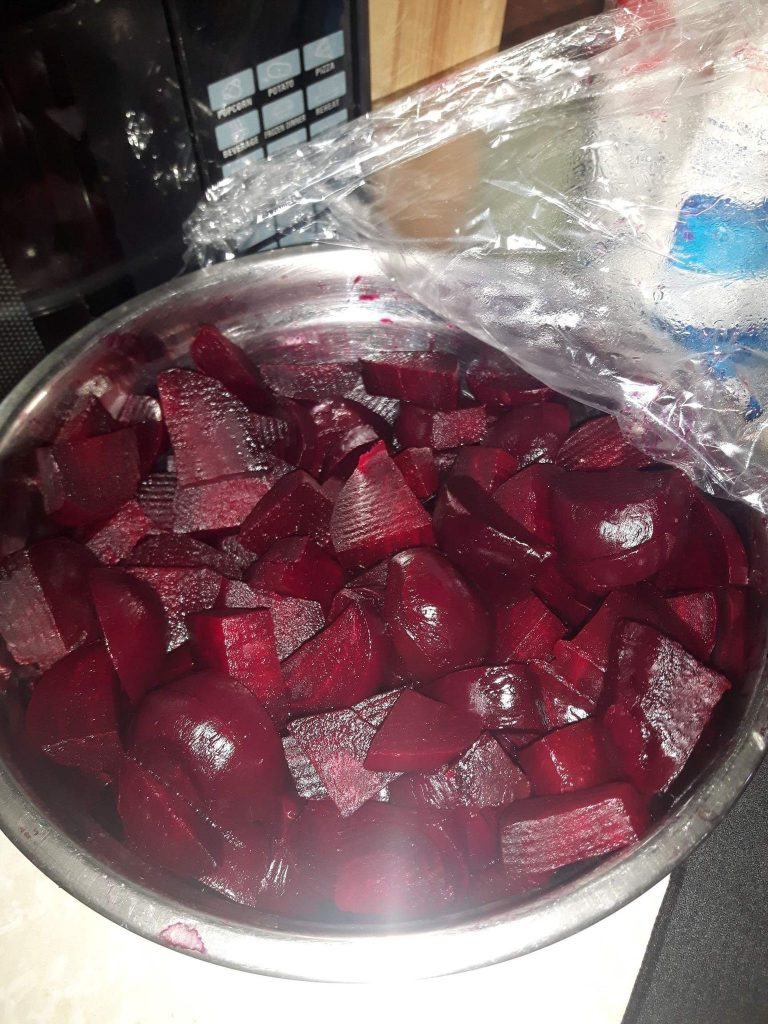 My Great Grandmothers Old Fashion Beet Recipe
Course: Appetizers
Cuisine: American
Difficulty: Easy
Using only simple ingredients this is far the best recipe for canning your beets.
Ingredients
About 10lbs of Fresh Beets

4 cups of White Vinegar

2 cups of White Sugar

2 cups of water – You can use the beet water left over from boiling if you want to. (Optional)

1 Tablespoon of pickling salt
Directions
First you must sterilize your jars. Make sure your rims and jars are washed and boiled in water to make sure they are safe for canning.
Wash your beets and set aside. Bring your pot of water to boil and add in your beets. Once they are tender you can drain and start peeling the skins off by rubbing them and cutting off the ends. You can either use a cold water bath, or you can let them cool on their own.
Combine the white distilled vinegar, sugar, beet water (or water) and pickling salt in a saucepan. Bring to a boil, stirring occasionally, and then reduce to a simmer.
In the mean time Quarter or slice beets and pack them into sterilized pint jars.
Ladle the hot liquid mixture over beets leaving about 1/4 inch headspace.  Remove any air bubbles, add two-piece caps, and place them in a canning rack. Lower rack into the canner making sure the jars are covered with at least 2 inches of boiling water and process pints for 30 minutes in a boiling water canner.
Remove jars and place upright on towel to cool completely. After the jars have cooled, check the seals by pressing middles of lids with a finger. If lids spring back, lids are not sealed and refrigeration is necessary. Yields around 7 pints.

Recipe Video
Notes
You can use the video above to show you how to properly sterilize your jars for canning.
Basil Beans Beets Bell Peppers Carrots Cayenne Peppers Celery Chinese Eggplant Chives Cucumber Garlic Jalapeno Kale Lemon Lettuce Mint Onions Oregano Parsley Peas Potatoes Rosemary Sage Spinach Thyme Tomatoes Zucchini