How To Easily Preserve Your Tomatoes on any budget. Diced Tomatoes can really stretch your harvest to the next year. I usually make Diced Tomatoes because they are so versatile and can be used to make all your favorite pasta dishes, salsa's, hot sauce or chili fresh all year round.
Pick Your Tomatoes To Preserve
Don't be afraid to pick them when they turn light green. It is a great way to ripen a bunch of tomatoes at once. I usually pick enough so that the plant can keep producing more tomatoes. It helps you get the most out of your plants. I cut around the parts that are bruised or scratched. When they turn light red I will put them in the fridge to wait for the others to catch up. Keep them in a carboard box until they turn red in a cool but dry place.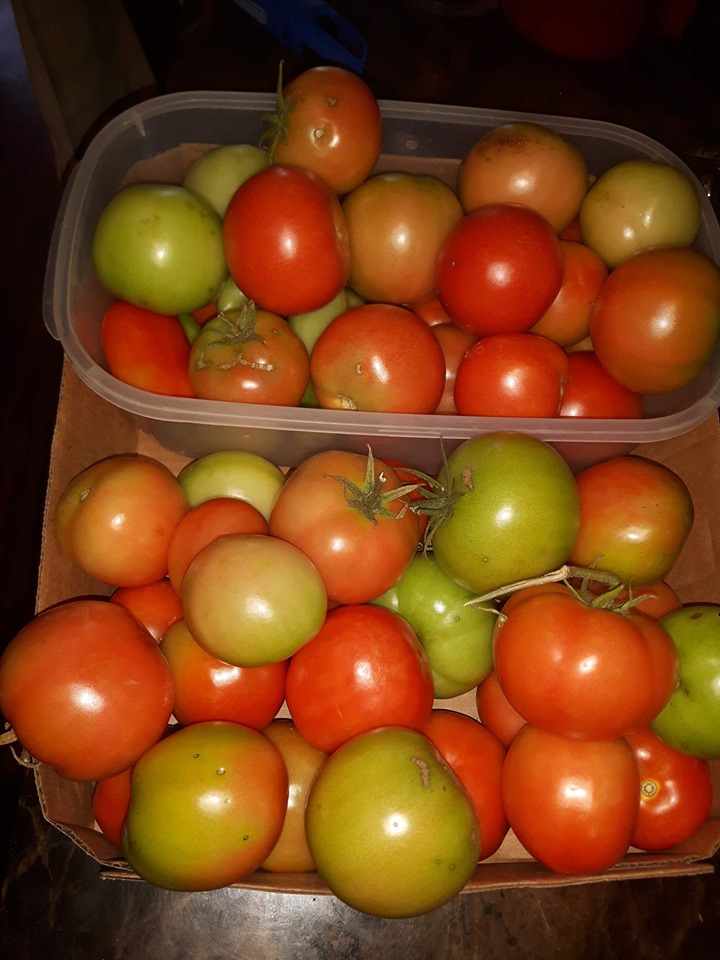 When Your Tomatoes Are All Ready To Start Jarring
Once all your tomatoes ripen you can then start preserving your tomatoes for all year usage. With Container and Backyard Gardening I recommend doing them in stages. Not everything will be ready at once. I did a few batches at a time. Follow the Steps below or print out the recipe I have at the end of this post.
Basic Supplies You will need to Preserve Your Tomatoes
Supplies you will need will be the following: (Please see our store for more details and costs)
Water Bath Canner
Tongs
Use Pint Jars for best results (You can always use 2 Jars)
Dish Towel
Unused lids and Jars work best. You can reuse them but I don't recommend it. After using the jars twice and new lids. I find the jars can break during the boiling process. So it is best to use new lids and jars each year.
How To Peel and Prep Your Tomatoes For Jarring
As mentioned above you will need to peel those skins off! Yup that is what takes the longest. But in the end it is all worth the effort. Start by using a large Pot and fill with water. You also want another container or pot to keep your cold water bath. For the Cold water bath I add in ice cubes if you have them on hand. It brings the temperature down very fast so they stop cooking.
While your waiting for your water to boil lightly, you want to cut an X into the top of the tomato and place in the boiling water. Once you have only a few of them in at a time. You can see the skins splitting, it is time to immediately take them out. Put them in cold water. Now the skins just fall right off. No peeling needed. Chop them and put them into a clean pot where you can simmer them down.
Diced Tomatoes
Course: Main
Cuisine: American
Difficulty: Easy
Beginner Level of Jarring your diced tomatoes. Use all year round.
Ingredients
15 lbs. of Tomatoes You will need roughly 2-3 lbs. per jar.

Fresh Basil and/or Oregano

2 Tbsp. Per Jar of Lemon Juice

Clean and Sterile Jars

Salt (Optional) 1teaspoon per quart or 1/2 tsp per pint jar
Directions
First Peel Your tomatoes. Wash and cut a small X on the bottom side. Next Boil Your pot of water your going to use to drop them into once water is at a boiling point.
Get your Cold Water Bath ready to drop them into. Do them in batches of 4-5 tomatoes at a time. Wait until you see the skin cracking and immediately put in the cold water bath to stop cooking.
Peel and Dice your tomatoes to the size you would like. Make sure your jars are ready to go by following the post on How to sterilize your jars for preserving.
Place a quarter of the tomatoes in a large pot and heat over medium heat. When they start to boil crush the tomatoes with a potato masher (optional). Add the rest of the tomatoes, do not crush and boil gently for 5 – 10 min.
For each jar I add 1 Tbsp. on lemon juice. Add your preferred herbs and than tomatoes leaving 1/2″ of headspace. Make sure to wipe all your rims dry before filling your jars with tomatoes.
Place your lids onto the jars and place the jars in a water bath canner and process for 35-45 minutes depending on Altitude. Let them sit undisturbed for 24 hours before checking to make sure they have sealed.
Recipe Video
Notes
Don't forget to send us your pictures at @goodgardener2 #goodgardener
Print Recipe
Things I can recommend for you to get started are:
Basil Beans Beets Bell Peppers Carrots Cayenne Peppers Celery Chinese Eggplant Chives Cucumber Garlic Jalapeno Kale Lemon Lettuce Mint Onions Oregano Parsley Peas Potatoes Rosemary Sage Spinach Thyme Tomatoes Zucchini