How To Grow Chinese Eggplant In Pots Or Containers. I find that the Chinese Eggplant adds some amazing color to your container gardens. It is also very easy to grow abundantly in containers or pots.
Planting Your Chinese Eggplant Seeds
Start your seeds indoors 8 weeks before the last frost.
Plant in seed starting soil 1/4″ deep
Place them in containers or cups to start them. I recommend a container around 18-24″ wide and deep.
Only start feeding them if you not using food with fertilizer in it already. Feed approximately around 3-4 weeks.
Caring For Your Chinese Eggplants
Keep your eggplants watered and evenly moist soil. Keep them well watered on hot days. Try not to soak the leaves when watering to minimize disease. They are very easy to maintain and they grow very fast. Keep harvesting them to produce more fruits. I would recommend picking them when they are the size above or 4-5 inches long. Dull skin means they may become overripe. The stems are prickly so be careful. They also need full sun during the day.
Pests and Diseases of the Chinese Eggplant
Eggplants tend to be fairly resistant to diseases and pests. They are however prone to the Tobacco Mosaic Virus. You can use the Eggplant Disease Identification from GrowVeg Website. It is my go-to reference.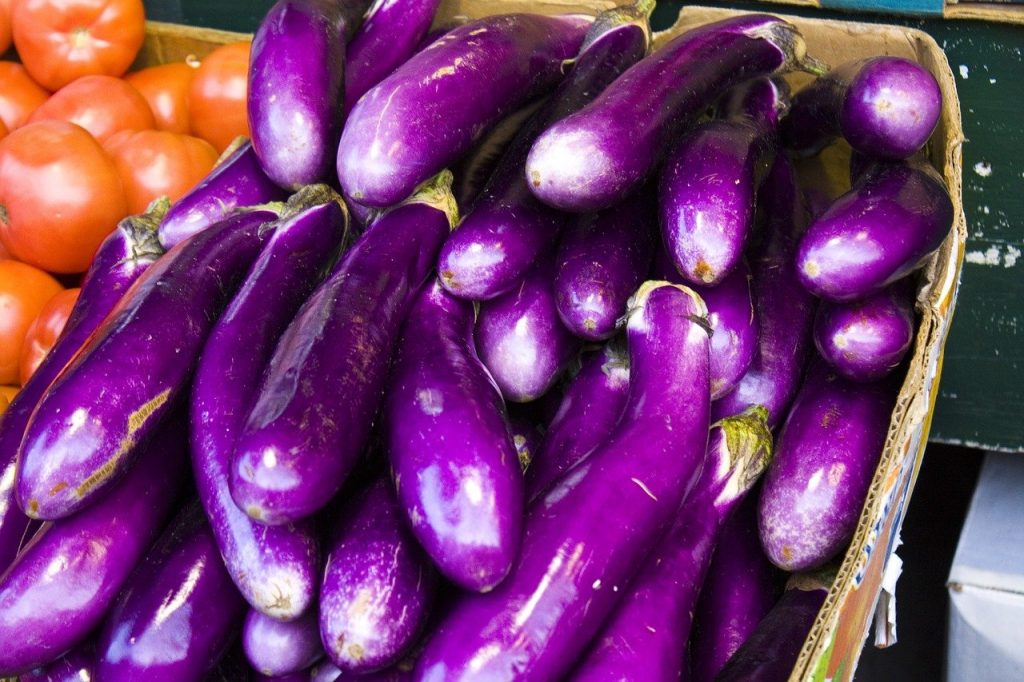 Harvesting Your Chinese Eggplant
Make sure they are not overripe. Look for firm fruits with glossy colors. If they are dull they may have a bitter taste. Hold the eggplant and snip from the fruit and not the stem. Leave 1″ of the stem attached so it can continue to produce more eggplants. Use them right away. You can freeze Chinese Eggplants for later use. However, you do need to cook them first before freezing.
Supplies You Need To Grow Chinese Eggplant In Pots Or Containers
Proper Sized Pots- I use a 10″ pot but only plant one seedling in each pot.
Starter Soil, and a good All purpose blend like Miracle Grow
Of Couse you will need the seeds. I would recommend growing the Long Purple Organic Eggplants.